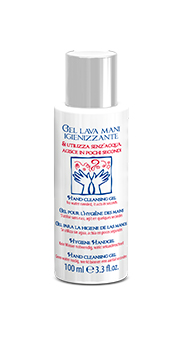 Gel Lava Mani igienizzante
100 ml
EAN: 8012603095668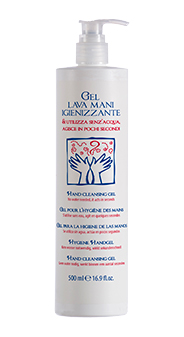 Gel Lava Mani igienizzante
500 ml
EAN: 8012603095941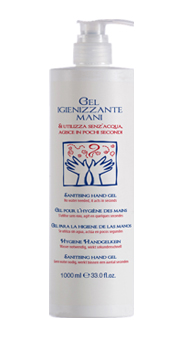 Gel Lava Mani igienizzante
1000 ml
EAN: 8012603096009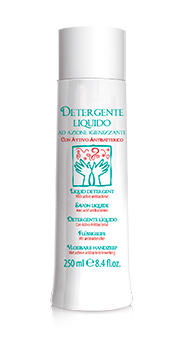 Detergente Liquido
250 ml
EAN: 8012603095682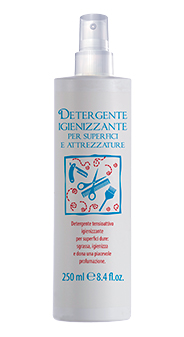 Detergente igienizzante
per superfici e attrezzature
250 ml
EAN: 8012603096597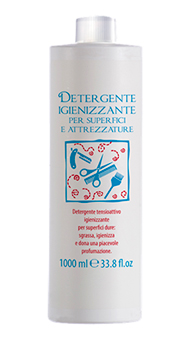 Detergente igienizzante
per superfici e attrezzature
1000 ml
EAN: 8012603096566
Regulation n. 648/2004/CE
INGREDIENTS (INCI denomination)

%w/w

CAS

AQUA (Water)

> 10.0

7732-18-5

SODIUM UNDECETH-7 SULFATE

1.0 – 10.0

666179-10-8

BENZALKONIUM CHLORIDE

1.0 – 10.0

68424-85-1

PARFUM (Fragrance), Citral, Limonene,

(±)-1-methyl-4-(1-methylvinyl)cyclohexene

0.1 – 1.0
Avoid contact and breathing vapors. Wear suitable protective clothing and gloves / Protect eyes and face.
Do not eat or drink while using the product.
Store in tightly closed, original container. Do not store in an opened or not labelled container. Keep the container in the vertical safe position, avoiding any possible falling or crash.
Store in a cool place, away from any heat source and direct sunlight.
Please, note: this formulation is the most recent one in the market. If it does not correspond to the product label you have purchased or in case of any doubts, please contact us at This email address is being protected from spambots. You need JavaScript enabled to view it. or by telephone at +39.011.80.23.411